Post by admin on Oct 23, 2018 9:10:52 GMT
Every month we feature a user of the AE Modular system, show their publicly available performances and ask them how they use the system.
This month we present Olivier aka Malibu Interface, who uploaded to YouTube one of the first really "musical" performances which featured the AE Modular system.
Filmed in a beautiful setting in the south of France it shows Olivier using the AE Modular for rhythmic and slightly glitchy patterns played to a background of a lush chord progression of pads.
Shortly after he released another video again set in a very beautiful outdoor scenery which put the AE Modular much more into the spotlight with a rumbling bass and a very catchy glitchy little melody. All together with beautiful pads and a breathy synth lead.
From glimpses of his studio in his other videos on his YouTube channel it seems that he is not new to the world of modular synthesis and so we wanted to know a little bit more about him and his music.
How did you hear about AE Modular for the first time?
I saw one for sale on Facebook from a person in Norway. I was curious of this low cost system and I bought it.
How do you integrate the AE system into your music production workflow?
I don't have a "workflow". I just have some modules and electronic devices I use when needed, like a painter's color pallet.
Sometimes I have a precise idea of the final result, sometimes I just experiment until I find something satisfying.
The AE Modular is really great to work with because it concentrates on a small surface the equivalent of a ten times bigger system. It eases the creative process.
What is your favourite style of music? Would the AE system fit this style?
If you mean the favorite style I play, I am clearly influenced by the Berlin School and the 70s German electronic music.
My electronic music roots and influences are : W. Carlos, Isao Tomita, Klaus Schulze, Tangerine Dream, Jean-Michel Jarre, Robert Schröder, Kraftwerk, Synergy and many others.
Or the classical music (baroque, romantic and pre-romantic periods, French musical impressionism like Debussy and Ravel, some contemporary music like Ligeti)
In the late 80s one piece clearly marked my orientation : "19" from
Paul Hardcastle
which was mixing some "real life" sounds with the electronic music and rhythms.
The AE Modular really fits my creative process by its size: it is the laptop of modular synthesizers. Everything can fit on a small table or desk.
Besides AE Modular, what is your favourite equipment?
No favorite. I just use what is serving the final result.
I can mix prepared samples (coming from some digital synths or VST) manually or automatically gated in a module like the bitbox from 1010Music, analog sequencers (Korg SQ1, Doepfer A-157, ARP sequencer), digital synths (Yamaha EX5 / TG77, Roland Boutique series or the Roland System 1m), analog synths (ARP Avatar, Korg MS20 mini) as well as all kinds of digital or analog modules.
I have recently discovered the SoMa Lyra-8 analog synth and the MicroGranny (which could be an inspiration for a future sample player module …)
What are you missing from AE Modular, how can it be improved, and which modules would you like to see in the future?
A sample player and a quantizer. A portable flight case could be nice too.
Your studio looks quite sophisticated, do you make music professionally?
No, I am a dilettante. A pure amateur (from the Latin "amare": to love).
How did you get started with making electronic music?
I literally fell in love with electronic music while listening to the record "Timewind" from Klaus Schulze during a German lesson in 1976. This was a revelation for me and I began to listen to plenty of other musicians.
Simultaneously, I began to read about the synthesizer techniques. I ordered my first synthesizer in 1977 : the Korg MS10. Then the MS20 a bit later. Then the SQ10 and the MS50, etc, etc, etc,
Here is photo of my first "studio" taken in 1979:
At the same time, I played every Saturday in a music shop in my hometown. In the (very little) showroom there was the ARP 2600, the ARP Odyssey, the ARP sequencer, the Minimoog, the Mellotron, the Moog Sonic Six, later the Polymoog. As I was the only one in the city at that time to be able to use these instruments, the shop owner let me play with them. It was a free demo for his customers and a good opportunity for me to practice.
When I had my first salaries, I bought a Mellotron, the Roland System 700 base console, some Roland System 100M modules, the EMS AKS, the TR808, the PPG Wave 2.2, the Akai AX73 / S900 / S950, Lexicon PCM60 / 70, a Simmons SDS V and a Yamaha GS2. I controlled these instruments using an Apple IIe, then an Atari with Cubase and finally a Mac recording on a 16 track Fostex.
In 1981 I collaborated with a friend who played the flute and produced these Bach interpretations (all recorded live on a cassette recorder).
This is a diagram of the patching of the Synthesizers: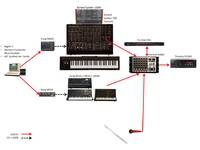 ... and here are some of the recordings:
Here is my studio in 1986 ...
... and some of the songs I produced at that time:
In 1993 my studio changed again ...
... and you can hear some of my songs from that time:
Around the year 2000 my studio had changed again, however it wasn't a very musically productive time.
Where is that beautiful landscape in your videos? And will you produce more videos like this, please?
In a holiday house near the village of Tourtour in France
www.tourtour.org/
I would like to record more "in situ" videos. I need to find time …
Thank you for your time and for sharing your music with us through your videos!
You are most welcome. Unfortunately my job takes up a lot of my time and energy and I don't play as much as I would like.
---
Recently Olivier has released yet another hauntingly beautiful video on his channel which shows integration with a small Eurorack system.
Hopefully we will see more videos like these from Olivier, please subscribe to his channel on YouTube!
www.youtube.com/channel/UCWhQ-lX5tSJQ8QXa4hLE0dA
You can also find him on Soundcloud at
soundcloud.com/user-130484462