Post by spacedog on Apr 2, 2019 14:24:49 GMT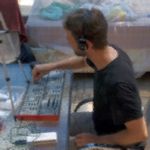 arti
, I really like this song, it's very rhythmical and I'm enjoying the quirky squeaky squeals (or squealy squeaks?) The Volca FM is next on my list of additional gear to complement my AE, it sounds really good.
I'd recommend the Volca FM, the only beef I have with it is the lack of patch memories but you can't really complain about for the price and sound quality.... One day I am going to try uploading DX7 sounds to it like you're supposed to be able to but I tend just to twiddle with the sounds it came with!
I moved this reply to "The Lounge" as my point wasn't about the AE Modular. I also thought it might be nice to have a thread that explores how people are using the various Volcas (Volcae...?) in their setup.
I have toyed with the idea of a Volca FM for about a year, but never quite got around to buying one - and they're now at their lowest price for quite a while. I always wanted a DX7, but wow they were expensive when they came out, and so difficult to program that must people never went beyond the presets (including most Top 10 Pop songs of the time). The Volca looks easier to program, so to test the water I played with the
free Dexed VST
, loading up the many DX7 banks out there. That was great fun, and I got what I wanted, so I stopped looking at the Volca... until now.
I did also toy with the idea of the Volca Sample, mainly for building some vintage drum machines. Then I pulled out my old Electribe ES-1 and discovered that it did exactly what I wanted, albeit with a memory storage device upon which you could land a helicopter - it's Smartmedia and VERY big.
I thought about an SQ-1 and then bought an Arturia BeatStep Pro. I didn't really want a Volca Bass (I sold my original TB 303 for £50 back when they were worth nothing - and I still think I got the better end of that deal). The Volca Keys looks useful, but ulimately replicates what I have already in, for example, an Arturia MicroBrute. The Volca Kick just seems too specialist. Now, the Volca Beats had potential for me, although again I had already sold many variants of Roland machines over the years, so why get another...?
Mmmm, something keeps stopping me from buying a Volca. I'm not sure why as they fulfil my criteria of being inexpensive, small (I have limited synth space), sound good (from what I've heard) and are fun (as everyone says).
Then... I saw the new Modular and I thought, "This is the one", and if it was a touch cheaper and interfaced better with the AE Modular, I'd be there. I will buy something Volca-shaped at some point, I'm sure

I've been impressed by what I'm hearing here, so that's another reason to go for it.
Anyway, that's just the start of a thread for people to discuss how their Volcas fit in with their AE Moduar, or general setup (if they're so moved) - that's why I moved it to The Lounge