Post by admin on Aug 11, 2018 5:41:24 GMT
Robert (
robertlanger
) has invented the AE Modular format and was successful in getting this commercially produced with a Kickstarter Campaign. Now he is very busy designing new modules and of course fulfilling orders from a growing number of new AE Modular enthusiasts.
Because he is so busy, he often won't participate in the forum's discussions on a daily basis, so I thought that once a month we want to give Robert the opportunity to answer questions in a bit more depth.
I have started with a few questions of my own, but please post your own questions in reply to this thread which Robert will try to answer in the Q&A thread next month.
What's your favourite breakfast?
Muesli with lots of fresh fruits, raisins, coconut chips… breakfast is the most important meal for me.
Tell us a bit about your story, how did you become involved in synthesizers and electronics?
I got involved in electronics mainly through my father, who was a passionate engineer (mainly mechanical engineering, but with lot of interest in electronics and all kind of technical development). I was about at the age of 14 or 15, when he decided to build an electronic organ. Because he wanted to make music and doing this with an electronic device seemed most appropriate for him (besides of the advantage of playing silent via headphones). At this time there were kits available for electronic organs and so we built such an instrument. While my father focused on learning to play pieces, I was very quickly interested more in the possibilities of creating different sounds, which was quite limited with an electronic organ. So I first heard the word "synthesizer", which should be something for creating "any possible sound" - ok, this was the right thing for me! In the pre-internet era it was difficult to get information about this stuff, but I discovered some books, and a DIY modular synth published in the German electronics magazine "elektor" (an example can be seen here:
www.sdiy.org/rfeng/formant.html)
. This one I built, and this was the start into the world of electronic sounds. I dropped all activities in electronic music at the age of about 22 and was completely absent (in this time I worked as electronics engineer and later in the field of IT administration and software development, besides of this I built some acoustic string instruments) until I rediscovered it again around 2013, starting with the digital way (DAW, plugins etc.)
When and how did you come up with the idea of AE Modular?
With a friend we started to run the Ableton user group in Munich. While searching for a main subject for the monthly meetings we had the idea to give an introduction to modular synthesis, because this receives so much interest. At this time I was working only digital with sound, but I knew Dieter Doepfer from my first electronic music phase in the 80's. So I asked him if he could lend us a system for the user group, which he did. And as I was checking the borrowed modular system, in the first moment something incredible happened: I simply patched a VCO to the filter and from there to the output; and in the moment I turned up the filter I almost fell backwards from my chair - WHAT a sound! From this moment I understood what people mean with "analog sounds better" - a statement I smiled at before a little bit, to be honest…
After this I tried building some simple hardware synths, just for fun. Initially I intended to make a Lunetta style synth (a synth made of sometimes abused digital logic chips) but then I found a real filter, a real VCA, a real envelope etc. would be useful, too. The eurorack format seemed too big for my taste and I wanted to make things smaller. For the module size there were two main influences:
First, I was working also with Arduino stuff and here we have these sockets and small wires with pins for making the connections, which appealed to me.
Second, I bought a Korg Volca beats and looking at the panel I thought "oh, there are three knobs on an area of only a few centimetres!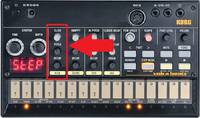 The next step was the following sketch, the one and only defining the format and exploring the available space on the PCB: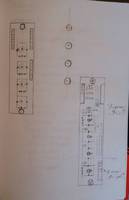 All in all, the definition of the module size was not a process, but an instantaneous inspiration - which turned out to work quite well. I never regretted this decision.
What are your influences in the design of the modules?
The first influence was the approach of the Lunetta synths. I liked the abuse of digital logic chips for creating sound. This is also the root of "AE" - abused electronics. In some modules this approach is still alive, like oscillators, LFO and the Wasp filter. Generally, I tried to create simple and "raw" circuits, not so "polished" to get the corresponding sound. Initially, AE modular was thought mainly as a modular noise machine for creating analog samples for further use in a DAW, something like this. It had no 1V/octave oscillators at all. However the response during the Kickstarter campaign and the way how people use it changed the direction significantly towards a full fledged modular system. So the development now goes more towards a bit more sophisticated modules and refining and optimizing the palette of basic modules.
Are you also making music with modulars and who are your musical influences?
Unfortunately I have almost no time for this; I hope to do it more in the near future, because somehow I am making the AE modular also "for me". I am influenced very much by Klaus Schulze, Kraftwerk, Jean-Michel Jarre and I also like more and more electronic music where tonality is subordinate, up to noise music; and "ambient" would be the best fitting label for my musical direction.
Regarding the AE Modular size, did you build smaller or larger prototypes too and how did you end up with the current module dimensions?
As described before, the module dimensions were a "divine inspiration" ;-)
Was there a special reason why you chose 9V as the power supply voltage?
I decided to run the entire thing on internal 5V single supply, because the Lunetta stuff works well with that, also Arduino things, and I wanted to use cheap standard components as much as possible. And the 9V power adapters are really common. Regulating 9V from the wall adapter to 5V is a common way.
Why was the Wasp filter your first filter module choice?
Because the Wasp filter circuit also abuses a digital logic chip in an analog way, this was for me the perfect filter in the initial Lunetta approach.
What are your plans for the future?
Making the AE modular system to a full-fledged modular synth with a complete and wide palette of modules! And refining the modules where it seems necessary for me to make them more suitable for a "serious" modular synth; the usage and feedback I get from the community of AE users gives me a clear direction where to go here. And over all my primary aspiration is to keep the prices in an affordable range so many more people can experience the great fascination of modular synthesis!
All kinds of feedback, questions and suggestions are very welcome; it is an important ingredient for the way AE modular goes! So feel free to ask all questions; I'll try my best to answer them.