Post by keurslagerkurt on Jan 18, 2021 22:38:12 GMT
Hi all!
So today finally my MCP602 chips arrived, and I'm having a lot of fun already. I found a video (link below) on youtube, explaining an obscure 'deliberate misusage' of opamps (one could call it abused electronics

), derived from some old Buchla schematics. The original circuit acts like some weird 'gate' on the oscillators, breaking up the sound by setting every voltage below a certain treshold equal to ground (the so-called 'deadband'). Further below i also have some sound demo's and scope pictures.
The circuit is dead simple, so I tried to set it up (drawing of final circuit below). I realised I need the 'ground' at the + of the opamp to be the center of our waveform, so I set up a virtual ground of 2.5V. I changed Rf to a potentiometer of 100K, giving me control over the 'amount of deadband'. I also added the second MCP opamp as an output buffer (as I had huge voltage drops due to getting a high output impedance with the pot). I tried to center the incoming audio around 2.5V by adding a capacitor of 10uF and a resistor of 1M to virtual ground (2.5V). I'm not sure if this 'hurts' the input audio or not? I just made a bet with the values, and I'm not sure how well its centered, but it seems like it helped the sound.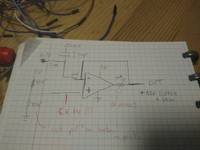 So I'm still searching for some answers (or inspiration!):
- I tried adding an LFO at the 2.5V 'virtual ground), and it sounded cool, but a little too untamed even with attenuation. I think I should make sure the LFO is centered around 2.5V, but how would I do that? Adding a cap removes the possibility of a slow LFO i think?
- I use the pot as a simple resistor (only two legs), would it work for CV if I just place a vactrol in parallel?
- do I need extra considerations for interfacing etc, or is the input cap & output buffer enough?
Here is a sound demo link on soundcloud:
soundcloud.com/zzzvm/kurtsdeadband-demo/s-KyH9szKgZmW
I especially like the effect on rich noises, like some weird breaking up semi-highpass filter. Its also really nice on white noise I think, it makes it very tame in a comforting way (i have a soft spot for synth campfires).
Below are some scope pictures while i turn up the effect on the same waveform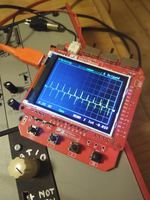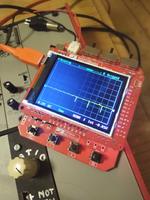 youtube source (great channel!):
Kurt out!