Post by keurslagerkurt on Jan 8, 2021 9:44:46 GMT
Hi all!
Recently I ordered two boards from AliExpress based on the ISD1820 recording chip. They contain a small microphone, three push buttons for recording & playback, and some pins to voltage control the recording, playback, etc. (I ordered these:
www.aliexpress.com/item/32854056669.html?spm=a2g0s.9042311.0.0.5d4d4c4dfSY7Wp)
A quick google search learned me that you can order exactly the same boards from a ton of different manufacturers, so there are also more ethical options than AliExpress around.
Anyways, I was pleasantly suprised at how easy it was to make the small board work, and how well it talks with the AE. Connecting the small board is actually very easy and can as such be barely considered as DIY even haha. This is how I did it.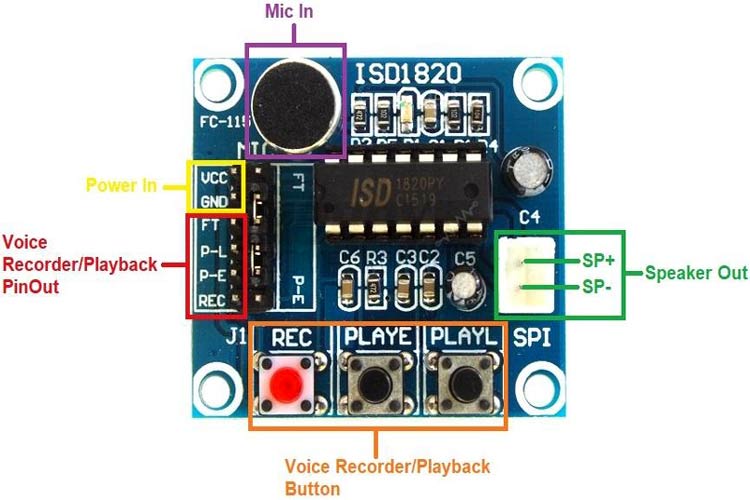 So I connected Power In Vcc to 5V of the AE and connected GND of the board & AE. For speaker out, it works perfectly if you just connect SP+ as an audio source in your AE (I connected it to my Wasp Filter input). I read in the online documentation that you should NOT connect SP- to ground by the way, so I leave this one unconnected.
You can play with the other pins, as they are the voltage control of the recording and playback. But you can also just use the push buttons and leave the pins unconnected. They work as follows:
FT: this should be the direct audio of your microphone, so you could sing/makenoise live without recording, but havent tested this one yet.
P-L: Playback Level activated. When this input pin level transits for LOW to HIGH, a playback cycle is initiated. The playback will stop once the pin goes low again. So with eg a square wave you can control playback of the recording.
P-E: Playback, Edge‐activated: When a HIGH‐going transition is detected continues until an End‐of‐Message (EOM) marker is encountered or the end of the memory space is reached. You can send a pulse or a gate here, and it will start playback of your rec.
REC: The REC input is an active‐HIGH record signal. The module starts recording whenever REC is HIGH. This pin must remain HIGH for the duration of the recording. REC takes precedence over either playback (P-L or P-E) signal.
Only downside was the board has male headers, so I need to buy some more male-female dupont cables. For now I solved my problem by using some female-female cables with the AE cables put on top. It looks possible to incorparate two of these small boards into two AE spaces, I'm thinking about just fixing them on top of a panel, as the microphone needs to be in the open.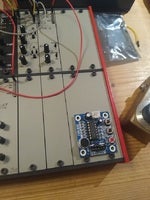 I havent yet made any real 'module' or anything DIY for AE, so if people have some inspiration on how this could be fixed in a nice way, all inspiration is welcome. It would also be ideal to find a type of pin/headers set that i can put on top of the male headers of the mic board to convert it to female, as such i could easily patch.
I was also thinking of soldering an extra, attenuated connection to the mic solder points, so I could record audio from the rack onto the chip & loop it.
Here is a small first test of the mic through the AE delay module:
And here I incorporate it into a bigger ambient jam: