Post by NightMachines on Aug 13, 2018 19:00:12 GMT
The
Tinysizer
and
Minisizer
were self-contained, analog modular synthesizers from Germany, made by Anyware Instruments: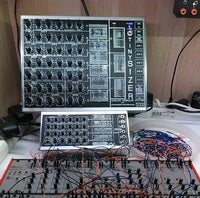 Their aim was to be as small as possible, while also offering a lot of features and of course having a great sound. They were fully modular without any internal routings, so connections had to be made with the patch wires in order to make a sound. Both synths are unfortunately discontinued.
Tinysizer:
2 X voltage controlled oscillator VCO - Oberheim SEM style
3 X suboscillators
1 X waveformprocessor/waveshaper
1 X voltage controlled filter, state variable VCF - Oberheim SEM style (with 4-input mixer)
3 X low frequency oscillator LFOs (with switchable frequency ranges)
4 X CV, 6x Gate, MIDI-CV interface
2 X mixer & inverter & overload - distortion
3 X multiples
1 X white noise & pink noise
1 X ringmodulator
1 X sample & hold s+h
4 X VCAs linear
1 X envelope follower & audio gate & microphone preamp
2 X ADSR envelope generator (fast & slow)
1 X control voltage CV - source
1 X DSP effect, reverb & delay (digital)
11 X patchable auxiliary in & outputs, bi - directional (to connect external gear)
The housing was made of metal with super sturdy, panel-mounted potentiometers. The synth came with a monitor stand to prop it up at an angle and a BNC gooseneck lamp, which could be attached to shine some light for patching. Patch leads came from Conrad and the patch sockets were the kind you'd find on floppy disk drive cables. Surprisingly, even after years of patching, I still haven't worn out any sockets, so I was never worried about the durability of other patch wire synths, like the Bastl Kastle, bitRanger and the AE Modular now.
The price was around 1.500 € incl. tax.
I made two demo videos for it:
Here's my first video of the Tinysizer - self-patched, playing weird sounds without any external effects or processing:
The Tinysizer was my gateway drug into modular synths. I had failed to have fun with a 6U Eurorack system before, which I sold after not using it for months. A while later though, I wanted to try out modulars again, but without the hassle and risk of researching and buying individual modules myself. I was still a newbie and didn't really know what I wanted in a modular synth exactly. So a self-contained system like the Tinysizer was perfect. Having a solid MIDI-CV interface built-in and the possibility to connect other gear to it made it easy to integrate into my music setup and after some time, I started expanding it with Eurorack more and more.
This is a jam session where I play both the Tinysizer and its Eurorack "expansion" as lead sound, sequenced by the Tenori-On (which I sooo regret selling!):
To get minijack sockets for the Tinysizer, I made a little converter box. The ground was provided by patching one 6.3mm TRS jack cable between the box and one of the Tinysizers built-in AUX ports:

In this video you can see the box better. My Eurorack setup had grown further by that time:
I also own an
Olegtron 4060 patch wire signal generator
, which works with the Tinysizer as well:
During my analog video bending phase, I played this jam with the Tinysizer, sequencing the Vermona DRM-1 mkIII drum synth. Whenever I play with the Tinysizer, I am amazed at the combination of features and the sound-shaping possibilities they offer. Adding the digital delay and reverb effects to the otherwise all-analog package, was a brilliant idea.
Some time later, after the Tinysizer had been discontinued, the Minisizer was released, following the trend of even more portable modular synths.
Minisizer:
- 1 OSC, 6 Waveforms incl. 2 Subs with PWM, Sync and 2x AC/DC coupled lin/exp ctrl 
- 1 Glide Section
- 2 ENVs (ADSR & AD)
- 1 Moog-style ladder filter
- 3 VCAs
- 4 CV-MIDI & Gate
- 6 Jacks for interfacing with "the world"
- Noise generator (white)
- Ring modulator
- 2 LFOs
- Clipper/Waveshaper
- 3 Input Mixer
Its price was around 350€ incl. tax.
While the Minisizer was a fun standalone synth, I really liked it as a companion to other synths, like the Arturia MicroBrute, which benefits from an additional VCO, Envelopes, etc. There was also a step sequencer planned, with the same form factor of the Minisizer, but it was never released. 
Of course I also made a demo video for the Minisizer:
Here are the Tinysizer, the Minisizer, a contact mic and a DIY drone box playing together:
The Bastl bitRanger was released around the time of the Minisizer as well, so here is a video of them patched together. The bitRanger sequences the Minisizer and also adds some chaotic audio:
And last but not least, here's the video to my track "Ravidus", which was released on the
Modularism Vol. 1 compilation
. I'm using an Arturia KeyStep MIDI keyboard to play the Tinysizer, affecting the whole patch dramatically with after touch. The Minisizer is used for percussion.
I haven't connected the AE Modular to the Tinysizer and Minisizer yet, but I will update this thread when I do